Frostheart

"Littler's debut is wild, funny, lavishly illustrated and filled with excitement."
The Guardian


The number one bestseller! Shortlisted for the Branford Boase Award 2020.

Set off on a magical and hilarious adventure on the Frostheart!

Bursting with brilliant characters, heart-stopping adventure and tons of laughs, this magical tale is perfect for fans of Nevermoor, Frozen and How to Train Your Dragon!

Way out in the furthest part of the known world, a tiny stronghold exists all on its own, cut off from the rest of human-kin by monsters that lurk beneath the Snow Sea. There, a boy called Ash waits for the return of his parents, singing a forbidden lullaby to remind him of them... and doing his best to avoid his very, VERY grumpy yeti guardian, Tobu.

But life is about to get a whole lot more crazy-adventurous for Ash.

When a brave rescue attempt reveals he has amazing magical powers, he's whisked aboard the Frostheart, a sleigh packed full of daring explorers who could use his help. But can they help him find his family . . . ?



"Offers oodles of thrilling moments . . . interspersed with an
acute understanding of heartfelt storytelling."
Kirkus, Starred Review
Buy Here!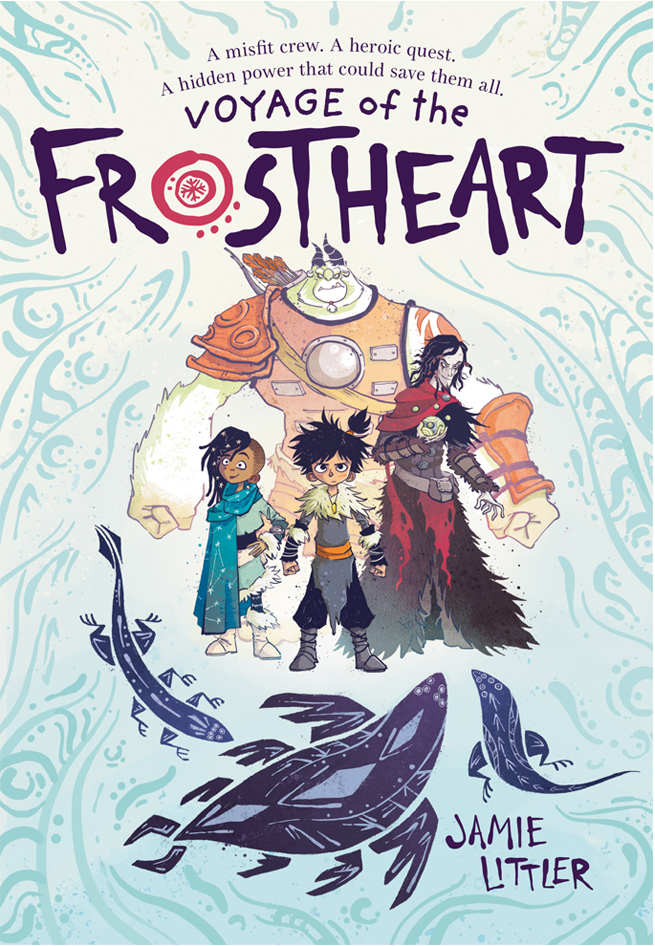 Cover for the North American Edition (titled 'Voyage of the Frostheart')



"A truly cinematic and gripping read, jam-packed with engaging
characters and stunning illustrations throughout.
Frostheart is a feast for the eyes and the imagination!"
Laura Ellen Anderson - Bestselling author of the Amelia Fang series
"A heart-stopping tale ... [that] really lives up to the hype."

Sunday Post



"Littler is an expert at pushing reluctant readers
from one chapter to the next via strategic cliffhangers and
this freezing world should warm the hearts of young readers"

The Times



"Happily, this is one that really does live up to the hype. Littler is best known
as the illustrator of Danny Wallace's Hamish and the Worldstoppers series,
but here he proves himself to be a huge fiction talent too.
It's a rip-roaring action adventure, full of humour, heart and unforgettable characters,
all enhanced by Littler's wonderfully detailed black and white line drawings
. . . expect big things."

The Bookseller, Children's Book of the Month